Piazza del Popolo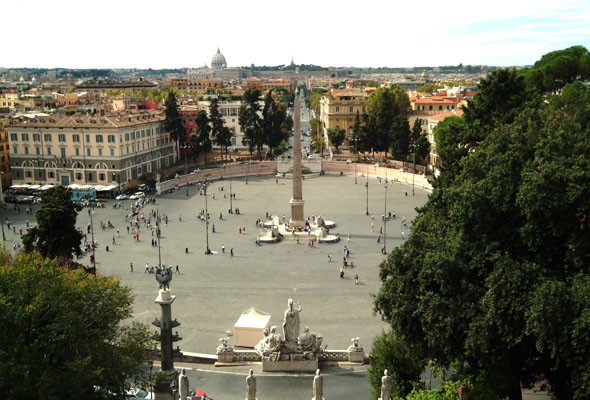 If you like to visit Piazza del Popolo, a bed and breakfast in the centre of Rome is the best solution for a holiday dedicated to art and entertainment.
Piazza del Popolo is one of the most famous squares in Rome, laying at the foot of the Pincio Hill.
The piazza's charm is principally heightened by the twin Churches of Santa Maria dei Miracoli and Santa Maria di Montesanto, the obelisk (known as the Obelisco Flaminio) which is the oldest and second tallest in Rome and the two Valadier fountains.
Gathering spot for the shopping in Rome, three main streets start from this square:Via del Corso, Via di Ripetta, Via del Babuino. Have a relaxing stroll around the marvellous gardens of the Pincio Hill, or do some shopping in the many elegant boutiques located in Via del Corso and Via dei Condotti, or admire the stunning artworks kept in the Art Gallery in Via Margutta. There's something to suit everybody's fancy! And don't forget to try the many smart restaurants, wine bars, tearooms, and coffe shops around Piazza del Popolo in Rome. 
If you are looking for a bed and breakfast near a metro station so thay you can easily reach any area of ​​Rome, do not hesitate to contact us.
How to reach Piazza del Popolo from Vatican Rooms Cipro
It's very easy to get Piazza del Popolo from Vatican Rooms Cipro. It's sufficient to get Cipro and take subway line A direction Anagnina stop Flaminio (3 stops).
Alternatively, you can easily get Piazza del Popolo with a 30-minute walk. After reaching Cipro stop, go straight to the Vatican Walls to Piazza Risorgimento. Going to the end of Via Cola di Rienzo, after crossing Regina Margherita Bridge you'll arrive to Piazzale Flaminio and then to Piazza del Popolo.