Piazza del Popolo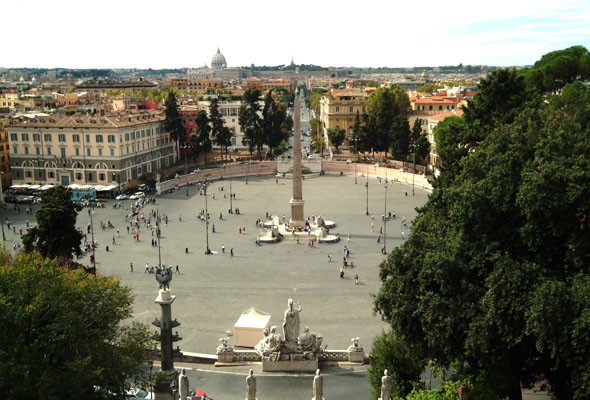 Per chi vuole andare a visitare Piazza del Popolo, un bed and breakfast nel centro di Roma può essere comodo per poter girare a piedi o con i mezzi pubblici in città, in modo semplice e veloce.
Piazza del Popolo è una delle più celebri piazze di Roma, situata ai piedi del Pincio.
Le due chiese gemelle Santa Maria di Montesanto e Santa Maria dei Miracoli, l'Obelisco Flaminio (il più antico e il secondo più alto di Roma), e le due fontane del Valadier contribuiscono a creare l'atmosfera affascinante della Piazza.
Da questa piazza partono tre famose vie: Via del Corso, Via di Ripetta e Via del Babuino. Piazza del Popolo può essere un buon punto di partenza per un pomeriggio di passeggio fra i magnifici giardini del Pincio, i numerosi negozi di classe di Via del Corso e Via dei Condotti e le gallerie d'arte di Via Margutta senza dimenticare il ristoro, offerto dai numerosi ed eleganti bar, sale da tè, vinerie e ottimi ristoranti.
Se cerchi un bed and breakfast a due passi da Piazza del Popolo e che sia allo stesso tempo nei pressi di una fermata della metropolitana per consentirti di raggiungere facilmente qualunque zona di Roma, non esitare a contattarci.
Come raggiungere Piazza del Popolo dal Vatican Rooms Cipro
Per andare a Piazza del Popolo dal Vatican Rooms Cipro è sufficiente prendere la metropolitana dalla fermata Cipro e scendere dopo 3 fermate alla fermata Flaminio.
In alternativa, Piazza del Popolo è facilmente raggiungibile a piedi con un passeggiata di 30 minuti circa. Dopo aver raggiunto la fermata Cipro, proseguire dritto fino alle Mura Vaticane e quindi arrivare a Piazza Risorgimento. Percorrendo via Cola di Rienzo fino alla fine, dopo aver oltrepassato il Ponte Regina Margherita si arriva a Piazzale Flaminio e quindi a Piazza del Popolo.