Campo de' Fiori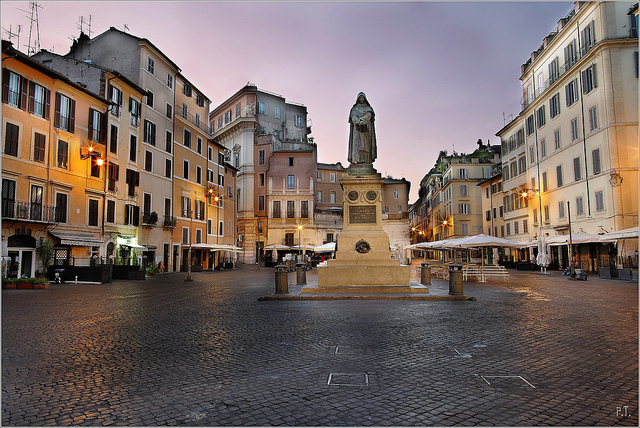 Per chi vuole andare a vedere Campo de' Fiori, un bed and breakfast nel centro di Roma può essere comodo per poter girare a piedi o con i mezzi pubblici in città, in modo semplice e veloce.
Campo de' Fiori è una delle più rinomate piazze di Roma. 
Fino al quattrocento la piazza non esisteva in quanto tale, e al suo posto vi era un prato fiorito con alcuni orti coltivati, da cui il nome. Secondo una leggenda, la piazza dovrebbe invece il suo nome a Flora (donna amata da Pompeo, il quale aveva costruito nei pressi il suo teatro)
In antichità era il luogo di scena di esecuzioni capitali. Il popolo qui si riuniva per assistere al martirio dei fuorilegge. La storia ci ricorda ad esempio, che il 17 febbraio 1600 qui fu arso vivo Giordano Bruno, filosofo accusato di eresia.
Oggi invece, Campo de' Fiori è una ridente sede di mercato e luogo di ritrovo notturno dei numerosi giovani sia italiani sia stranieri, grazie alla presenza di molti locali e pub.
Campo de' Fiori è l'unica piazza storica di Roma dove non è presente una chiesa.
Da non perdere, nelle immediate vicinanze, le storiche vie con botteghe tradizionali che ancora oggi portano il nome degli artigiani che un tempo vi lavoravano, come Via dei Baullari, Via dei Cappellari o via Via dei Giubbonari.
Se cerchi un bed and breakfast nel centro di Roma e che sia allo stesso tempo nei pressi di una fermata della metropolitana per consentirti di raggiungere facilmente qualunque zona di Roma, non esitare a contattarci. 
Per andare a Campo de' Fiori dal Vatican Rooms Cipro
| | | |
| --- | --- | --- |
| | Partenza da | Via Gualtiero Serafino, 29 |
| | A piedi per | 500 metri |
| | recarsi alla fermata | STAZ.NE METRO CIPRO (MA)   |
| | Prendere la linea | 492 (STAZ.NE TIBURTINA (MB)) per 10 fermate |
|   | scendere alla fermata | RINASCIMENTO   |
| | A piedi per | 300 metri |
| | fino all'arrivo | Campo de' Fiori |