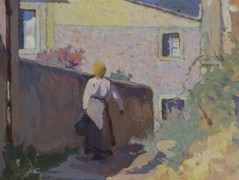 I Macchiaioli. Le collezioni svelate
From 16 Marchopens at the Chiostro del Bramante in Rome the exhibition I Macchiaioli: le collezioni svelate (The Macchiaioli. The Collections Revealed).
For the first time offers the public the chance to see important paintings by the Macchiaioli and others, within the context of the collections that originally held them.
The exhibition 'I Macchiaioli. Le collezioni svelate' enables the public to explore a vast world through the collections of great 19th-century art lovers. The sections – named after the original collectors – contain this large corpus of works acquired from private collections.
Read more information at  the link.
If you are looking for a guesthouse bed and breakfast near Campo de Fiori and near to a metro station so thay you can easily reach any area of ​​Rome, do not hesitate to contact us
How to reach the Macchiaioli exhibition from Vatican Rooms Cipro
It's very easy to get Chiostro del Bramante from Vatican Rooms Cipro. It's sufficient to get the subway at Cipro station and get off at Lepanto station. Then get bus no. 30 to 2 stops and get off at Zanardelli stop. From here, you can reach Via Arco della Pace with a 200 meters' walk.