Foro Italico - Stadio Olimpico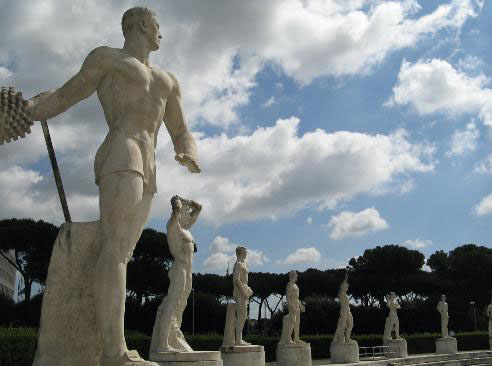 Per chi vuole andare al Foro Italico, un bed and breakfast nel centro di Roma può essere comodo per poter girare a piedi o con i mezzi pubblici in città, in modo semplice e veloce.
Il Foro Italico è vastissimo complesso sportivo situato a valle di Monte Mario, comprendente lo Stadio dei Marmi, lo Stadio del Tennis, lo Stadio del Nuoto e lo Stadio Olimpico.
Gli Internazionali di Tennis sono la manifestazione più conosciuta che si tiene periodicamente presso questo complesso sportivo. Occasionalmente si sono tenuti anche altri eventi di richiamo  internazionale come i Mondiali di beach volley e quelli di nuoto.
Lo Stadio Olimpico oltre ad essere lo stadio ufficiale della A.S. Roma, ospita spesso sia competizioni sportive sia eventi musicali ed artistici.
Se cerchi un bed and breakfast a due passi dal Foro Italico e che sia allo stesso tempo nei pressi di una fermata della metropolitana per consentirti di raggiungere facilmente qualunque zona di Roma, non esitare a contattarci.
Come raggiungere il Foro Italico dal Vatican Rooms Cipro
| | | |
| --- | --- | --- |
| | Partenza da | Via Gualtiero Serafino, 29 |
| | A piedi per | 500 metri |
| | recarsi alla fermata | STAZ.NE METRO CIPRO (MA)   |
| | Prendere la linea | METROA (ANAGNINA) per 1 fermata |
|   | scendere alla fermata | Ottaviano/San Pietro |
| | A piedi per | 100 metri |
| | recarsi alla fermata | OTTAVIANO (MA)   |
| | Prendere la linea | 32 (STAZ.NE SAXA RUBRA) per 7 fermate |
|   | scendere alla fermata | DE BOSIS/STADIO DEL TENNIS   |
| | A piedi per | 450 metri |
| | fino all'arrivo | Piazzale del Foro Italico |